In this blog, we will discuss the best White gaming keyboard.
If you're looking for a keyboard that's sleek and clean and will suit your gaming setup. To give a different look to your desk, this White Gaming keyboard will be a great one.
But nowadays there are so many options in the market that it will be difficult for you to choose one.
So in this article, we will discuss the top 5 best White gaming keyboards in 2023 along with their features.
A gaming keyboard is an essential tool for any gamer in today's world. But you are someone who likes to keep things aesthetically appealing.
then a white gaming keyboard might be the right choice. Not only do they look great on any desk.
Rather they also provide the convenience and functionality of a traditional gaming keyboard.
Pros of White Gaming Keyboard
The white gaming keyboard looks great in workspaces and gaming setups.
They provide a healthy and modern look which adds to the beauty of your desk.
It comes at the same price as anothe color keyboard.
Cons of white Gaming Keyboard
If not taken care of, a white gaming keyboard will quickly become yellow under heavy use.
You'll often see dirt build up on the keyboard.
To keep its appearance at its best, further cleaning is required.
---
Best White Gaming Keyboard
The Redragon K512 Shiva keyboard is a mid range Budget mechanical gaming keyboard. And you must know that most gamers prefer budget gaming gear.
So let us tell you about its features so that you will know whether this keyboard will be a deal of your benefit or not.
The keyboard flaunts a stunning and unique design encased in a brushed aluminum frame, and what is it made of ABS plastic with double-shot injected. and Redragon K512 Shiva keyboard uses Outemu brown switches.
This keyboard has 6 onboard keys which work on the fly without any additional software.
And it also has anti-ghosting features, which allows for 26 keys to be used simultaneously.
The keyboard has RGB lighting that can be customized using the Redragon software. Other lighting modes are available, including static, breathing, and waves.
Pros
26 Anti-ghost keys & dedicated media controls
Durable and long-lasting construction.
Customizable backlighting for personalization.
Comfortable and ergonomic design.
Detachable wrist-rest
Cons
The space bar key is problematic.
Check Latest prices in India Amazon Store
---
The Corsair K70 MK.2 SE is the gaming keyboard perfect for the hardcore gamer.
It is a bit more expensive than other keyboards and its features are also more advanced than dual keyboards, which will prove to be helpful for pro gamers and e-sport players.
This keyboard's Cherry MX speed switches make it suitable for gaming, and this keyboard comes with 100% anti-ghosting with full key rollover.
The Corsair K70 MK.2 SE keyboard has Premium build quality and design.
The Corsair K70 MK.2 SE keyboard has a premium look and feel. and its build-quality is quite good, it uses an aircraft-grade brushed aluminum frame. Which makes it more strong and durable, it prevents flexion, which makes the keyboard last for years.
The keyboard has 8 MB of profile storage that saves profile settings to the onboard memory.
The keyboard also features a detachable wrist rest that provides additional comfort and support while gaming.
Pros
Cherry MX Speed mechanical key switches
Aircraft-grade silver anodized brushed aluminum frame
Premium build quality and design.
Customizable RGB lighting effects.
Dedicated multimedia and macro keys.
Cons
Check Latest prices in India Amazon Store
Read More:- 5 Best 60% Gaming Keyboard in 2023
---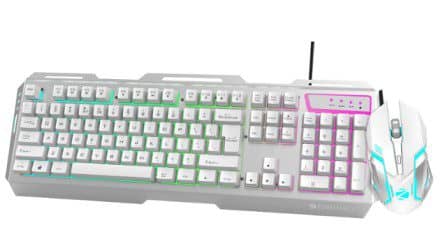 The Zebronics Zeb-Transformer Keyboard is best for those gamers who need a gaming keyboard and mouse combo. The best thing is that this is a budget-friendly combo Both are available in white color.
One of the key features of these is its ergonomic design and in terms of performance, this gaming keyboard and mouse provides high level of precision.
The keyboard is equipped with Anti-ghosting, allowing simultaneous keypresses without any input lag. On the other hand, the mouse is also equipped with a high precision optical sensor. Which provides smooth and accurate tracking.
Its DPI ranges from 800 to 3200. You can customize the brightness according to your gaming style. And there are 4 programmable buttons available in the mouse.
The keyboard has a total of 104 keys and is available with integrated media controls and window key functionality.
Unfortunately, RGB is not visible on the keyboard and mouse, which is a bit disappointing. Because most gamers prefer RGB more than LED. And in LED you will get to see 4 modes, 3 light modes, and one on / off.
Pros
4 LED modes with 3 light modes and 1 off mode
Multicolor LED,
Aluminum body
Budget-friendly combo
Cons
Check Latest prices in India Amazon Store
---
The Razer Huntmans Mini is a compact or stylish peripheral designed for the gamer in mind. Which gives importance to both performance and aesthetics.
Talking about the design, it is a small gaming keyboard, and 60% gaming keyboard comes with 60% Form Factor. Its width is 11.6 inches, which saves your desk space.
This keyboard has Razer Linear Razer optical switch which is Razer's own designed switch. These switches are much faster than the switches used in normal switches.
The Razer Huntsman Mini features Razer's iconic Coma RGB lighting. With over 16.8 million color options, you can personalize your gaming experience.
This keyboard allows you to choose different colors for each key and has advanced customization.
Pros
Compact and space-saving design.
High-quality, durable construction.
Fast and responsive optomechanical switches.
Oil-resistant double-shot PBT keycaps.
Detachable USB-C cable for easy portability.
Cons
Check Latest prices in India Amazon Store
---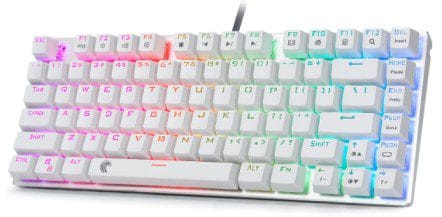 The E-YOOSO Z-88 is a high quality affordable mechanical keyboard specially designed for gamers. This is also a 60% gaming keyboard which comes with a total of 81 keys although this keyboard is not in the 60% form factor it is close to this size.
One of the main features of the E-YOOSO Z-88 is its mechanical switches. The keyboard uses high-quality mechanical Outemu DIY Blue Switch, which are durable and offer a consistent tactile response.
The keyboard also features anti-ghosting technology that allows multiple keystrokes to be registered simultaneously. Gamers who need to quickly execute complex commands.
21 LED backlight will be seen in this keyboard, in which 14 modes are dedicated RGB. And 7 mode is solid led. Which allows users to customize the lighting according to their preferences.
Talking about its design, it has a compact design. Which makes it easy for you to carry it anywhere, its length is 14.4 inches and 5.3 inches wide, so that it fits comfortably in the bag.
Pros
DIY blue switches from Outemu
14 RGB backlit settings plus 7 solid light modes total 21 LED backlighting options.
81 Anti-ghosting Keys
Tenkeyless keyboard with a small design
Cons
Check Latest prices in India Amazon Store
---
My Recommendation
The Redragon K512 Shiva is, in my opinion, a better white gaming keyboard.
In an affordable price range, it offers essential functionalities like 6 additional onboard macro keys, a dedicated media control, and a retractable wrist rest.
This keyboard is more than adequate for casual players. And if you don't play competitive video games, I believe this keyboard will be adequate for you.