Are you looking for a gaming keyboard under 1500 for smooth gaming experience?
Gaming keyboards are essential equipment for a better and faster FPS gaming experience. We are often confused while choosing the best gaming keyboard and want to cut down on the cost without compromising on the quality.
So, if you are on a budget and want to enhance your gaming performance then today I would like to introduce you to the best gaming keyboards under the 1500 in 2023 .
A high-quality keyboard should function well and have a distinctive design with lighting effects. You can play games more effectively and with high FPS (Frames Per Second) experience on PC with good keyboard and mouse.
Whenever you buy a gaming keyboard, do pay attention to some things
Whenever you gaming a gaming keyboard, it is very important to know its brand and the features available in it, so let's know what features should be in it.
Brand
To get a good brand keyboard, you should also know the features, which keyboard gives the best features.
well known keyboard brand in india are :-
Build Quality
The build quality of any gaming keyboard is all about its key press and response. Only a good build quality can give a good gaming experience.
RGB Lighting
If gaming keyboard does not have rgb lighting then it cannot give the fun of gaming keyboard.
When you are enjoying gaming in the dark and you do not have any problem in finding keys in the keyboard and your room starts shining with colorful colors, such an experience can only be given by the RGB lighting.
Mechanical vs Membrane Keyboards
mechanical keyboards have faster-typed speeds and more excellent durability than membrane keyboards.
The mechanical keyboard makes a sound when pressed, which adds to the enjoyment of the game for gamers.
Their keys remain elevated as compared to the membrane.
Mechanical Keyboards Are Best for Gamers.
Best gaming keyboard under 1500 in 2023.
1. Zebronics Zeb-Magnus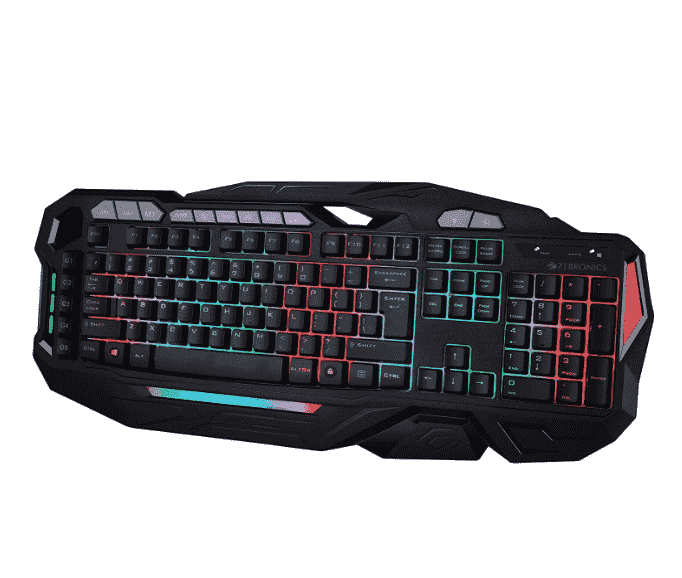 ZEB-MAGNUS is a premium gaming keyboard with 120 keys and dedicated multimedia keys. The keyboard has 26 anti-ghosting keys which helps you to have an exceptional gaming experience.
It also comes with multi-coloured LED lights and an advanced Windows software which helps in customizing the macro editor keys. It has 3 customizable macro keys that help in assigning 15 functions.
Specifications
Interface: USB
Total No. of Keys: 120
Total No. of Multimedia Keys: 5
Power Consumption: DC 5V, <350mA
Keystrokes life: 10 million Cycles
Cable Length: 1.8 Meters
Features
Dedicated Multimedia keys
Multi Color LED with 4 modes (3 Light Mode & 1 off Mode)
Gold Plated USB Connector
Backlight LED ON/OFF Function
Windows Key Enable/Disable Function
3 Customizable Macro keys
Braided Cable
₹ with Rupee key
Breathing LED
2. Zebronics Zeb-Transformer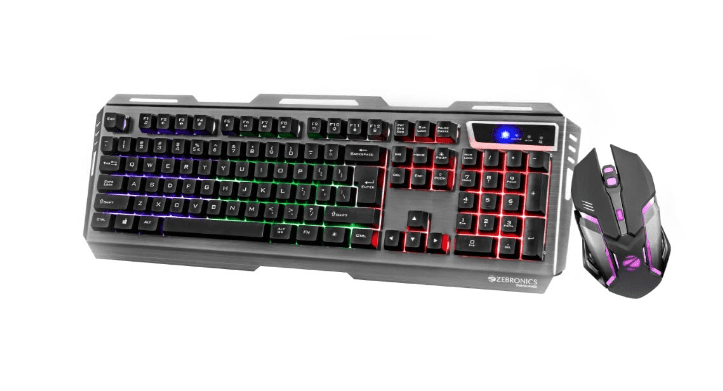 Zebronics Zeb-Transformer Gaming Keyboard and Mouse Combo (USB, Braided Cable)
Transformer keyboard and mouse comes with excellent ergonomics and you will not feel fatigued even after long session of gaming. The keyboard comes with an alumunium body and mouse has compact and ergonomic design.
The mouse also has good build quality with metal plate at the bottom. Both the keyboard and mouse come with long braided cable with high quality USB connector.
Read More:-Top 3 Best Gaming Headphones Under 4000 in India
Specifications
Interface: USB
Total No. of Keys: 104
Total no. of multimedia keys: 12 (Integrated)
Power Consumption: DC 5V, <200mA
Keystrokes life: 80 million times
Cable Length: 1.8 Meters
Cable type: Braided cable
Dimension (W x D x H): 474 x 173 x 39 mm
Net. Weight: 678g
Features
Integrated Media control keys
Multi Color LED with 4 modes – 3 Light Mode & 1 off Mode)
WIndows Key Enable/Disable Function
All Keys Enable/Disable Function
2-Step Stand
Laser Keycaps
Aluminum Body
Backlight LED ON/OFF Function
Gold Plated USB
Braided Cable
3. Cosmic Byte CB-GK-17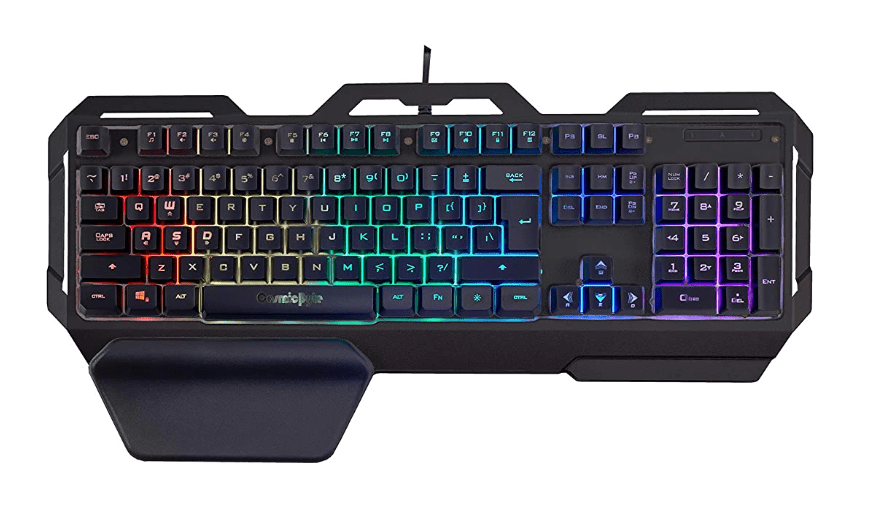 Cosmic Byte CB-GK-17 galactic wired gaming keyboard with aluminium body, 7 color RGB backlit with effects, Anti-ghosting (black)
It is armed with a braided cable that is made to protect the cable from electromagnetic interference (EMI) and increase the flex life and mechanical strength of the cable.
The Galactic Gaming Keyboard comes with 4 levels of backlight brightness and 9 RGB backlighting effects that take your gaming aesthetic to a new level.
The super Sleek & Slim Galactic Wired Gaming Keyboard from Cosmic Byte comes with an aluminium body which makes your keyboard strong and will give you an ultimate gaming experience.
The Galactic Gaming Keyboard is equipped with well-crafted keycaps with a great grip. It also sports scratch-resistant keys, with a 10 million keystroke life and a detachable wrist rest pad for extra comfort.
Specification
Interface: USB
Total No. of Keys: 120
Total No. of Multimedia Keys: 5
Power Consumption: DC 5V, <350mA
Keystrokes life: 10 million Cycles
Cable Length: 1.6 Meters
Features
7 Color RGB Backlit
4 Levels of Brightness Adjustment
9 Backlight Effects
19 Anti-ghosting Keys
10 Million Keystrokes & Wrist Rest.
Multi-Media Hotkeys
RGB Backlighting and Sound Reactive LED
Aluminium Body
Read More:-4 Best Gaming Headphone under 5000 in 2023
---
Read more

: 3 Best Gaming Keyboard under 1500 in 2023