A gaming mouse plays a vital role in a gamer's performance, providing precise tracking and quick response times.
These mouse are primarily designed to meet the demands of gamers
It offers customizable yoga features and an ergonomic design for gaming.
In this article, we will be discussing the top 5 honeycomb gaming mouse available in the market. So that can help you choose the right mouse to enhance your experience.
---
5 Best Honeycomb Gaming Mouse
1. Cooler Master MM711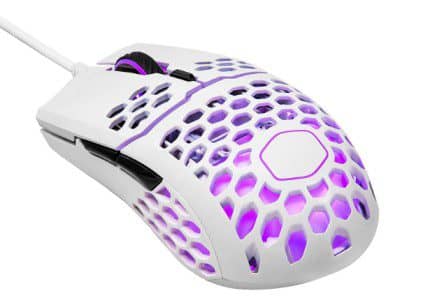 The Cooler Master MM711 is a popular honeycomb design gaming mouse. First and foremost the mn711 has a lightweight design that weighs just 60 grams.
Cooler Master MM711 is equipped with a Pixart PMW 3389 optical sensor. This sensor is one of the best for gaming.
The mouse consists of 6 programmable buttons. Those can be custom-built to perform a variety of functions including macros, DPI adjustments, and multimedia controls.
The MM711 has Omron switches in the left and right buttons, rated for a lifespan of up to 20 million clicks.
Pros
Lightweight design enhances maneuverability and reduces wrist fatigue.
High-precision sensor delivers accurate and responsive tracking performance.
Customizable RGB lighting adds a stylish and personalized touch.
Durable build quality ensures long-lasting reliability and durability.
The comfortable ergonomic shape provides a comfortable grip for extended use.
Cons
Limited customization options for the software.
---
2. HK GAMING Mira-M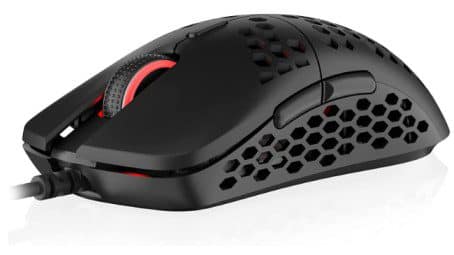 HK Gaming Mira-M is a universal lightweight honeycomb gaming mouse that can be used during gaming or working sessions.
And its weight is about 60 grams. Which is incredibly lightweight and reduces fatigue during gaming. The HK Gaming Mira M is equipped with a high-precision sensor. It also offers limited range and gets to see the 12000 PixArt PM360 sensor in it.
And it comes in two different sizes and is available in 10 different colors so you can choose your favorite one.
The Mira M features six programmable buttons, so you can assign custom functions or macros to each button.
Pros
Lightweight design for enhanced maneuverability and reduced fatigue.
High-precision sensor for accurate tracking and responsive performance.
Customizable RGB lighting for personalized aesthetics.
Ergonomic shape for comfortable grip.
Durable construction for long-lasting reliability.
Conc
DPI and CPI buttons are to close
Read More:- The 4 Best White Gaming Mouse for gamers
---
3. DIERYA X TMK13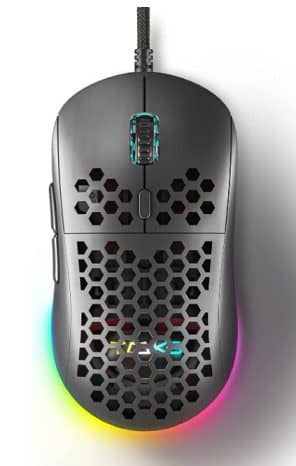 The design of the DIERYA X TMK13 gaming mouse is sleek and ergonomic.
Provides comfort and support during gaming sessions. Its design has been made suitable for both left and right hands.
When it comes to performance, the DIERYA X TMK13 Gaming Mouse does not disappoint.
Because it has a high-quality optical sensor that ensures smooth and accurate tracking. its DPI range is 1000 to 12800.
The mouse has a braided cable with a length of 1.8 m. Which provides enough space for comfortable movement during gameplay. The Omron switch is used in the mouse. And it has a lifetime of up to 10 million clicks.
Pros
Accurate and responsive tracking.
Adjustable DPI and buttons.
Comfortable and ergonomic design.
Long-lasting and robust construction.
Stylish and visually appealing.
Cons
Unresponsive scroll wheel under heavy use.
Read More:- The 5 Best Pink Gaming Headphones With Mic
---
4. The G-wolves Hati HTM
The G-wolves Hati HTM is a great honeycomb wireless gaming mouse, one of the distinguishing features of the mouse is its lightweight and inorganic design.
G-wolves Hati Mouse is a high-precision sensor lash that provides precision and responsiveness.
The mouse has an adjustable DPI setting so you can change the sensitivity according to your gaming needs. This mouse comes with customizable RGB lighting effects so you can personalize aesthetics to match your game setup.
The mouse has an onboard memory that can store your preferred settings. so that you can use it on multiple devices without the need for reconfiguration.
G-wolves Provide long-lasting battery life so that you don't need to do frequent recharges.
Pros
Lightweight design for comfortable and agile gaming performance.
High-quality sensor for precise and accurate cursor movements.
Customizable buttons and software for personalized gaming configurations.
Durable build and materials for long-lasting use.
Ergonomic shape for enhanced grip and reduced hand fatigue.
Cons
Install Specific Software
---
5. Pulsar Gaming Gear X Lite V2 Mini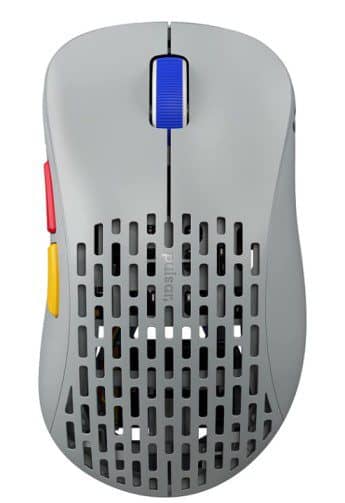 The Pulsar Gaming Gear X Lite V2 Mini is a Wireless Gaming Mouse. It has advanced features and innovative technology. And it's a compact powerhouse and a game-changer for both casual and professional gamers
The Xlite V2 Mini is carefully crafted with an inorganic design. It is quite light as compared to other mouse which weighs only 55 grams. making it one of the lightest dies available in the market.
The mouse gives you up to 40 hours of battery life on a single charge, depending on how you use it. Powered by the latest flagship PAW 3370 from Pulsar Pix Art. Which provides 400 IPS speed, 50g acceleration, 2000 DPI, and 1000 Hz / 1ms pulling rate.
Pros
Compact size ideal for travel and small hand sizes.
Responsive and accurate sensor for precise gaming control.
Customizable buttons and software for a personalized gaming experience.
Lightweight construction for comfortable and extended gaming sessions.
Durable build quality for long-lasting performance.
Cons
Limited customization options and features.
---