If you are a gamer, then you will know how important good gaming headphones are. they can make the gaming experience If you play games for e-sports or entertainment, then it is necessary to have a headphone only then can you enjoy the sound quality of gaming. If pink is your thing, here are some of the 5 best pink gaming headphones under $200 available in the market that offer high-quality sound, comfort, and a stylish look.
You can still read this article if pink is not your thing as all the headphones in this list are available in different colors gaming headphones.
---
Things to consider before buying pink gaming headphone
Before we dive into the list, there are a few things to consider before buying pink gaming headphones.
Comfort:- While buying any gaming headphones always keep in mind that the headphones should come with padded ear cups comfortable headband if you are planning to use them for long hours
Sound Quality:- Sound quality is important when it comes to gaming. so, look for headphones that come with high-quality drivers, noise-cancellation, and custom-tuned audio drivers and provide clear, accurate, immersive audio
Microphone Quality:- Microphone quality is crucial if you like to play games that require communication with other players. Look for headphones with a built-in microphone or a detachable one that offers clear and noise-free voice communication.
Stylish:-

Of course, when it comes to headphones, stylish headphones are also necessary, along with style, you should buy keeping all the categories in mind because not all headphones that look stylish are good.
---
The Best Pink Gaming Headphone
The HyperX Cloud II is a high-quality, stylish, and comfortable headphone specially designed for gamers who demand immersive audio, and crystal-clear communication.
The headphone features 53mm neodymium drivers that add deep bass and clear highs that deliver rich, detailed sound.
It also features a closed-back design that blocks out external noise so gamers can focus on their game.
One of the main features of The HyperX Cloud II is its 7.1 virtual surround sound, which features an immersive audio experience that helps gamers a lot with in-game sound, giving them a competitive edge in games like multiplayer.
The HyperX Cloud II features an advanced audio control box the control box allows gamers to adjust volume bass and microphone settings and the headphones also feature a detachable noise-canceling microphone that filters out background noise, allowing gamers to communicate with their teammates. Can speak clearly.
One of the unique features of the HyperX Cloud II is its memory foam and ear cushions, it gives comfort to your ears and helps in isolating external noise and you can also replace its ear cushions.
---
Pros
Comfortable and durable design.
Excellent sound quality with 7.1 surround sound.
Removable microphone with noise-cancellation.
Compatible with multiple devices.
Reasonably priced for its features.
Conc
---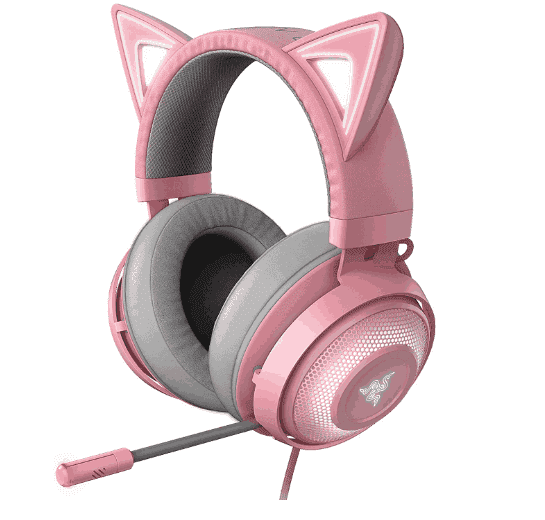 The Razer Kraken Kitty is a premium gaming headphone designed for gamers who love the high-quality sound and unique customization, and with the help of Synapse software, you can change and customize different colors and effects and features THX Spatial Audio that delivers 360-degree sound.
The headphones feature custom-tuned 50mm drivers that deliver wide frequency and response and rich, immersive sound. And with the built-in noise-canceling microphone, you can have crystal clear communication with your teammates in multiplayer games and mute and unmute the microphone as per your requirement. The headphone comes with a USB connector which provides high-quality digital audio
The headphone has a 3.5mm jack so you can connect it to devices like Xbox, PlayStation,
And it has comfortable ear-cups, cooling gel-infused cushions that reduce heat buildup, and the earcups are made of strong and lightweight aluminum foam. In case its earcups get harmed, at that point they can be easily changed.
Pros
The unique cat ear design adds a fun and playful element.
THX Spatial Audio delivers immersive, high-quality sound.
Chroma RGB Lighting allows customizable visual effects.
The active noise-canceling technology enhances the listening experience.
Soft and comfortable ear cushions and headbands provide long wearability.
Conc
Durability issues with kitty ears.
---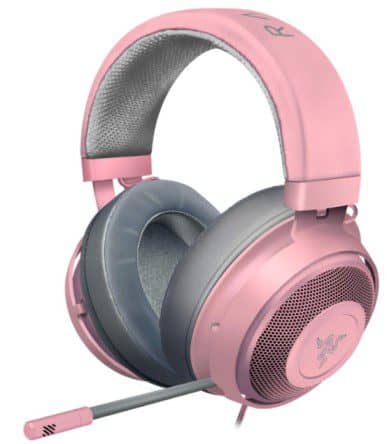 The Razer Kraken features 50mm drivers that deliver powerful and precise sound quality for a truly immersive audio gaming experience.
Durability is a key factor in the Razer Kraken headphones, with the earcups made from bauxite aluminum.
Which is lightweight and durable. It features a light and flexible headband and plush ear cushions that fit the ears.
7.1 surround sound and THX spatial audio technology have been used in this, Which provides accurate sound quality. It uses 7.1 surround sound and THX spatial audio technology. Which provides accurate sound for the best gaming experience. The headphones are easy to set up, plug them into your device's audio jack or USB port and you're ready to set up, and this is the best pink gaming headphones.
Pros
Immersive 7.1 Surround Sound
Retractable Noise-Cancelling Mic
Cooling Gel-Infused Ear Cushions
Lightweight Aluminum Frame
Cross-Platform Compatibility
Conc
Uncomfortable for extended wear.
Read More:-Top 3 Best Gaming Headphones Under 4000 in India
---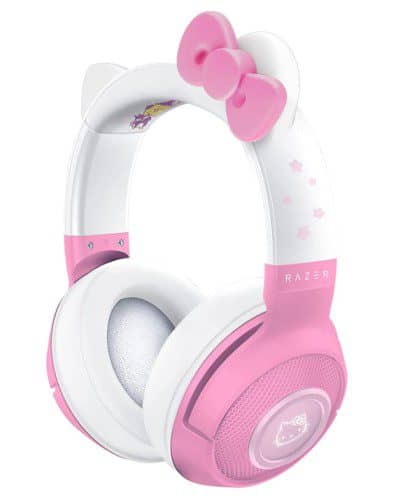 If you are looking for a high-quality wireless headphone then this headphone will be best for you. This headphone is engineered with cutting-edge technology to deliver immersive audio quality. One of the main features of Razer BT Headphone is its wireless connectivity, you can easily connect it to your pc, mobile, tablet, or any other BT device and enjoy wireless.
Talking about the sound quality, the Razer Kraken BT headphones deliver an exceptional audio experience. And it features custom-tuned 40mm drivers that deliver powerful bass and clear highs that are best for music and gaming
In terms of comfort, it is as comfortable as other headphones, it has high-quality air cushions, which you can wear for a long time. The headphone is designed to be durable and lightweight, it can be used on the go and its earcups can also be changed
The Razer Kraken BT headphone can deliver up to 50 hours of continuous use on a single charge and the headphones also feature a built-in microphone that allows for hands-free calls
Pros
Powerful and clear sound quality.
Comfortable and secure fit for extended wear.
Bluetooth connectivity with long battery life.
Built-in microphone for hands-free calling.
Sleek and stylish design with customizable color options.
Conc
exceptional audio quality
---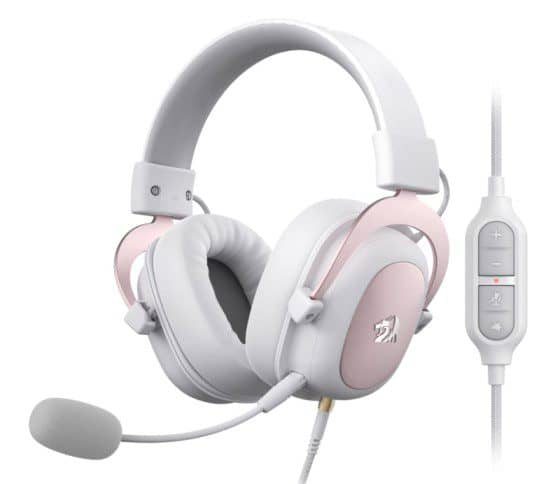 The Redragon H510 Zeus Gaming Headphone is Budget-friendly headphone and eco-friendly.
H510 Zeus also has a sleek design with RGB lighting on the earcups and a black color scheme. The earcups are large enough to completely cover your ears, blocking out external noise. The earcups are made of soft, breathable material that allows you to enjoy long hours of gaming or listening to music. And the earcup is portable and foldable making it easy to store and transport.
The Redragon H510 Zeus Headphone is equipped with a 53mm neodymium driver that delivers clear and powerful sound. The frequency response range of the headphones is 20Hz-2KHz. It has 7.1 surround sound and provides an immersive audio experience.
The H510 Zeus also comes with a noise-canceling microphone which is essential for a gamer so that you can communicate better with your teammates.
Redragon H510 Zeus Gaming Headphone is compatible with PC, consoles, and mobile devices. And the headphone comes with a 3.5mm audio jack which makes it easy to connect to any device.
Pros
Immersive sound quality with 7.1 surround sound.
Comfortable fit with adjustable headband and soft ear cushions.
Durable build with sturdy metal frame and braided cable.
Convenient in-line controls for volume and mic mute.
Compatible with multiple devices including PC, console, and mobile.
Conc
Read More:- Top 5 Best White gaming keyboard with blue switches
---
FAQ
1. Are pink gaming headphones only for female gamers
No, anyone can wear pink gaming headphones. The color of the headphones does not determine who they are suitable for.
2. Can I use pink gaming headphones for listening to music or watching movies?
Yes, you can use pink gaming headphones for any audio-related activities, not just gaming.
3. Are all pink gaming headphones under $200?
No, there are some pink gaming headphones that are more expensive than $200, but this article specifically focuses on headphones that are under $200.