Gaming mouse have become an essential tool for gamers around the world. The growing demand for gaming peripherals has led to several companies joining the market to compete for the title of best gaming mouse. One such competitor is the well-known gaming accessories company DAREU, whose cutting-edge ideas have caught the attention of gamers.
We will compare the features, and functionality of DAREU's latest product, "DAREU Wireless Wired Gaming Mouse" in this article.
DAREU Wireless Gaming Mouse
Before we go into the DAREU Wireless Gaming Mouse specifications. Let's spend a bit getting to know the company that created the product. In the gaming world, DAREU has progressively earned popularity for making a variety of peripherals.
such as keyboards, headphones, and, of course, gaming mouse.

DAREU is devoted to performance and innovation, and its mission is to provide
gamers with the resources they need to reach their greatest potential.
---
Build Quality & Design
Having a dependable and well-made mouse may make all the difference in the world of professional gaming. The DAREU wireless/wired gaming mouse skillfully combines attractive appearance with a robust construction.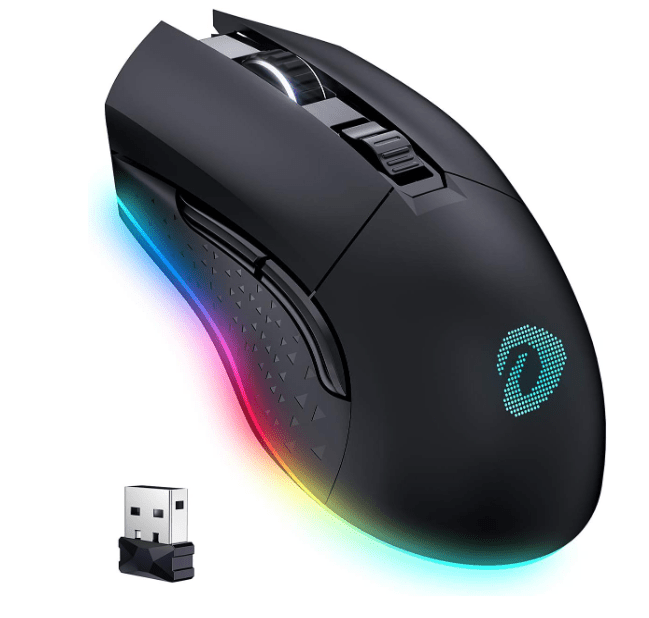 DAREU wireless gaming mouse is design with 7 programmable buttons. Which has left button, right button, scroll button, forward button, back button, DPI+ and DPI – button. The DAREU easy-to-program driver allows you to Programme the mouse's buttons, DPI, and RGB illumination. It fits snugly into the hand, reducing strain and fatigue during extended gameplay.
---
Dual-Mode Connectivity
The DAREU Gaming Mouse offers wired and wireless connectivity, giving
users the choice to select the mode that best fits their gaming setup.
This mouse may be use both wired and wireless connections, depending on your preference for lag-free gameplay.
---
Dual-Mode Functionality: Wireless and Wired
In wired mode, the DAREU Gaming Mouse operates at an impressive.
1000Hz polling rate, ensuring ultra-fast response times and zero input lag. This level of precision is crucial for professional gamers and ensures every move you make translates accurately in-game.
On the other hand, the wireless mode utilizes advanced 2.4GHz technology providing a stable and lag-free connection within a range of up to 10 meters. This freedom of movement allows gamers to play comfortably from a distance, perfect for those intense gaming sessions where you need to lean back and relax.
---
7 Programmable Buttons
DAREU Wireless Gaming Mouse has 7 programmable buttons. Which enhances the level of your gaming experience. These buttons can be customized to perform a variety of tasks, such as triggering required commands with a single press or executing complex in-game macros.
Whether you're a professional gamer looking to gain an edge in competitive play or a casual gamer looking for convenience, these programmable buttons deliver unparalleled productivity and efficiency. Plus, the mouse is plug-and-play, so you won't need to install any additional drivers or software to get started.
---
Battery Life
The wireless gaming mouse is equipped with a built-in 950 mAh rechargeable battery. When RGB lighting is on,So the mouse can last for an impressive 40 hours on a single charge.
If you prefer to save battery, you can turn off the RGB lighting and enjoy up to 55 hours of long gaming. And the mouse also features a Type-C data cable charging feature, which allows you to switch to wired mode while charging. This way you can continue gaming without any interruption.
---
Pros:
Dual-mode functionality offers flexibility.
Rechargeable battery for extended playtime.
Customizable buttons for personalized gaming.
Ergonomic design for comfort during long gaming sessions.
High-performance optical sensor for precision.
Cons:
Some users may prefer a different grip style.
Limited color options for RGB lighting.
---
Conclusion
The DAREU Wireless Wired Gaming Mouse, is a great accessory that meets the demands of both recreational and competitive gamers. It checks all the criteria for an excellent gaming experience thanks to its dual-mode capability, rechargeable battery, configurable buttons, and ergonomic design. The DAREU gaming mouse has something to offer everyone, regardless of your level of experience.