How 5G Works + The Future of 5G Technology.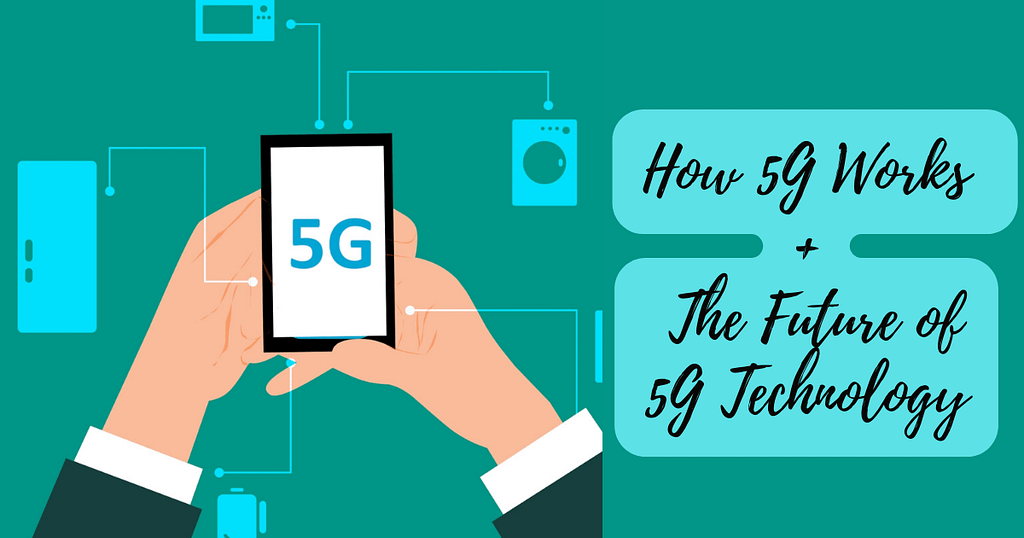 What is mobile network?
A mobile network is a telecommunications network that provides services via radio signals to mobile phones.
The system which make to give radio signals to mobile phones provided by mobile networks can be described in few steps-
• Calls are initiated by mobile subscribers ends and routed to a public switched telephone network (PSTN)
• Call signals are transmitted from the PSTN to the mobile telephone switching office using landline cables. Few years ago these were of copper. Now, intsed of copper we are using fiberoptic.
• The MTSO monitors call and subscriber unit location and sends signals through a landline cable to the cell site.
Cell sites transmit call signals via radio signals to mobile subscriber ends .
• Mobile subscriber units, such as cell phones, receive calls.
Through this process, any mobile phone with the correct configuration can connect to receivers around the world. Examples of mobile networks today include local area networks (LANs), wide area networks, (WANs), and 3G, 4G, and 5G networks.
mobile data network type.
There are many types of cell phone network like 3G, 4G, 5G, LAN, and WAN. The main difference between these systems is that they use different radio networks to transmit signals. These network system are : a public switched telephone network (PSTN), a mobile telephone switching office (MTSO), cell sites, and a mobile subscriber unit (MSU).
Q: What is 5G?
A: 5G is the 5th generation mobile network. It is a new global wireless standard after 1G, 2G, 3G and 4G networks. 5G enables a new type of network designed to connect virtually everyone and everything together, including all networking devices .
5G wireless technology is meant to deliver higher multi-Gbps peak data speeds, ultra-low latency, greater reliability, massive network capacity, increased availability, and a uniform user experience for more users. Higher performance and improved efficiency power new user experiences and connect new industries.
Q: What are the differences between previous generations of mobile networks and 5G?
A: The previous generations of mobile networks are 1G, 2G, 3G and 4G.
1980s: 1G introduced analog voice.
Early 1990s: 2G introduced digital voice (like CDMA – code division multiple access).
Early 2000s: 3G brought mobile data (eg CDMA2000).
Fourth Generation – 4G LTE
The network currently we are using .
Q: How fast is 5G?
A: 5G is designed to provide maximum data rates of up to 20 Gbps based on IMT-2020 requirements. The flagship 5G solution from Qualcomm Technologies, the Qualcomm® Snapdragon™ X65 is designed to achieve up to 10 Gbps in downlink peak data rates.
But 5G is much more than its speed. In addition to higher peak data rates, 5G is designed to provide much greater network capacity by expanding into new spectrum, such as mmWave.
5G can also deliver very low latency for more immediate response and an overall more uniform user experience so that data rates remain consistently high – even when users are on the move. And the new 5G NR mobile network is supported by the Gigabit LTE Coverage Foundation, which can provide ubiquitous Gigabit-class connectivity.
What are the different 5G bands available in India?
There are essentially three types of 5G bands supported in India –
low-band,
mid-band and
high-band
The Department of Telecommunications (DoT) has started the sale of these 5G frequency bands:
600 MHz, 700 MHz, 800 MHz, 900 MHz, 1,800 MHz, 2,100 MHz, 2,300 MHz, 3,300 MHz, 3,500 MHz, and 26 GHz and more
5G in India: When does it arrive ?
Reliance's Mukesh Ambani, Bharti Airtel's Sunil Bharti Mittal, and Vodafone Idea's Kumar Mangalam Birla — will start with select cities but have ambitious goals for nationwide coverage.
New Delhi: Prime Minister Narendra Modi today launched 5G services in 13 cities across India at an event, though only Airtel users will get a chance to use it immediately.
Top players – Reliance's Mukesh Ambani, Bharti Airtel's Sunil Bharti Mittal, and Vodafone Idea's Kumar Mangalam Birla – will start with select cities, but have ambitious targets for nationwide coverage.
Mukesh Ambani, head of the Reliance Group that owns Jio, announced that his telecom company will roll out 5G services across the country by December 2023. He added that Jio is making rapid progress to launch 5G services in few months .
India's biggest-ever auction of telecom spectrum held recently saw bids worth a record Rs 1.5 lakh crore,
with Mukesh Ambani's Jio bagging nearly half of all airwaves sold with a bid of Rs 88,078 crore was.
RIL confirmed during its Annual General Meeting (AGM) that it will launch in Delhi, Mumbai, Chennai and Kolkata by starts next year.
Is is arrived fully by March 2023 and the entire country by March 2024.